By Dr Annie Lau and Dr Lynda Petherick
We are delighted to have Dr Haidee Cadd, research associate at the University of New South Wales, as the first interviewee in this new series.
---
1. Can you tell us about yourself, your research interest, and your career path?
I am currently a post-doctoral research associate working for the Centre of Australian Biodiversity and Heritage (CABAH) and the UNSW node. I started this role at the beginning of 2019 after finishing my PhD at the University of Adelaide. I am a palaeoecologist and isotope geochemist and primarily use pollen, charcoal and isotope proxies to understand how climate, fire and humans drive changes in ecosystem dynamics. I also enjoy integrating new and existing datasets to improve climate and ecological reconstructions from palaeoenvironmental records.
2. What drove you into palaeoecology?
I originally went to university fully intending to become a zoologist working with Orang Utan's in the Borneo rainforests. I began studying a double degree at the University of Melbourne studying a range of Zoology, Ecology, History and Indonesian subjects. In the 3rd year of my degree, I took a course in Geography with Ian Thomas (a retired palynologist) and loved that he knew so much about the landscapes and environments around us and their history. After this, I began to take a lot of Geography subjects. In the final year of my undergraduate degree in one of these geography subjects, we had a guest lecture from Michael-Shawn Fletcher. I found his talk absolutely fascinating and his enthusiasm for the work he was doing infectious. I approached him immediately after this lecture and asked if we could discuss the possibility of me doing a master's project with him. I never knew that staring down a microscope at pollen grains was my passion, but I'm glad I got the opportunity to find out.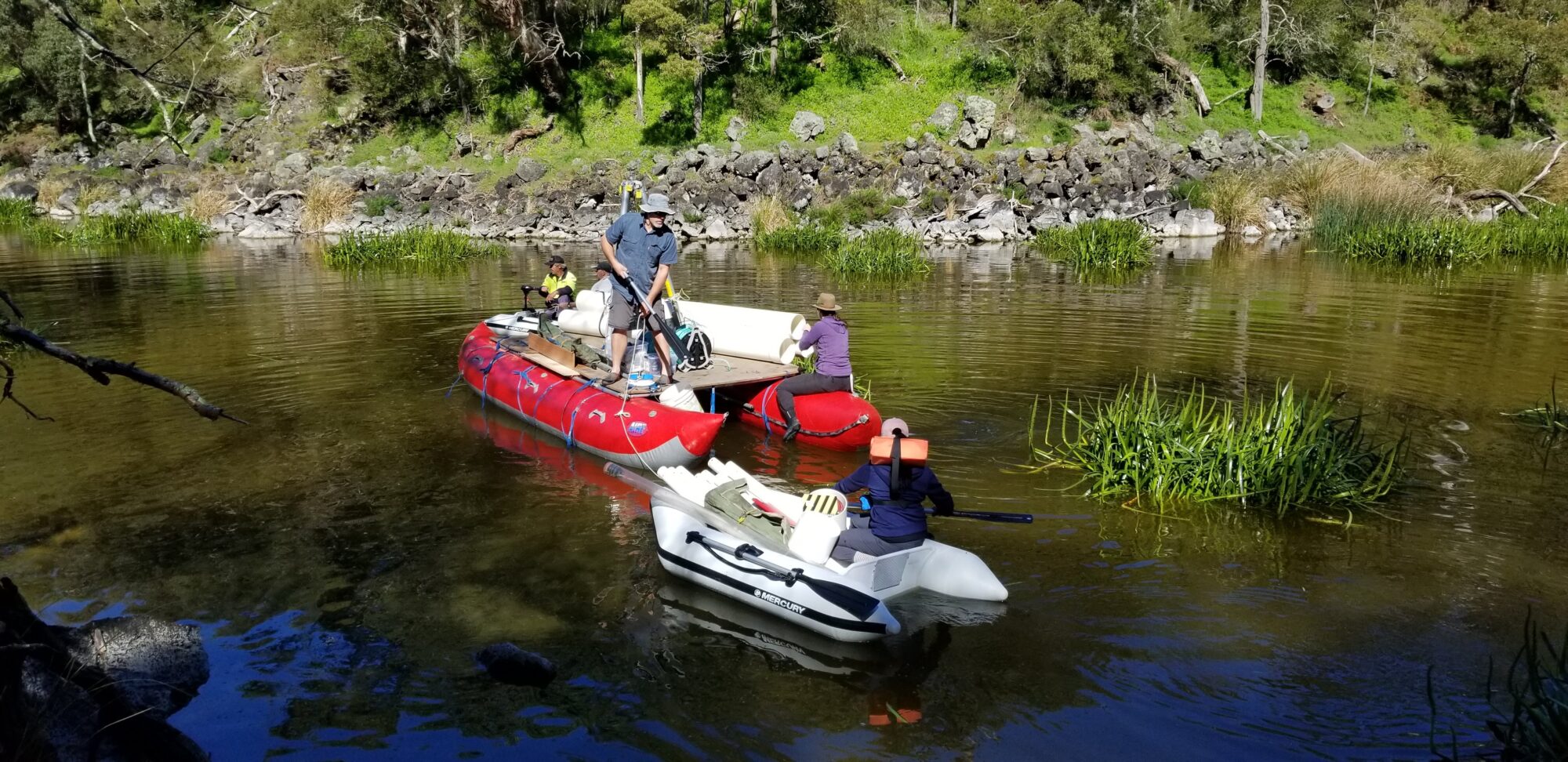 3. We are so glad that you chose Geography at the end! What do you think are your career highlights so far?
I've been fortunate to have had a lot of really great opportunities in my short career (to date). One of the best would have to be presenting my work at my first international conference, at INQUA in Japan in 2015. It was completely nerve-wracking and I thought my legs would never stop shaking but the feeling of being able to present something I had worked so hard on to a group of international scientists was really mind-blowing.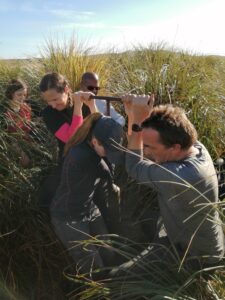 I've also been really lucky to have been involved in some field trips to amazing places around the world. My top three trips would have to be:
Going to the Falkland Islands to help Dr. Zoë Thomas collect a series of peat core samples for her DECRA in 2020 (managing to make it back to Australia just before COVID took hold). We traversed almost the entire length of the Falkland Islands collecting peat samples and looking at penguins (I swear we were mostly there for the peat…)
Teaching a University of Adelaide Honours course with Dr. Jon Tyler in New Zealand – we spent 10 days exploring the South Island of New Zealand looking at glacial landscapes and the geography and geology of the island.
Collecting a series of sediment cores from lakes across Fraser Island (SEQ) with colleagues from the University of Adelaide and the Queensland government. The landscapes of Fraser Island were beautiful and the team I was there with made it a memorable week.
4. Who has been a role model/influential in the direction of your career?
I have been incredibly lucky to have worked with some really great people over my short career. In particular, the time during my PhD at the University of Adelaide, working with Dr. Jon Tyler and Ass. Prof. John Tibby helped encourage me to pursue a career in science. They are both incredibly inspirational to work with and the way they approach science has helped shape the type of scientist I aspire to. They were extraordinarily supportive during my PhD and always encouraged me to pursue a career in science.
5. I like that you share photos of you working in the lab on Twitter. Do you spend a lot of time in the lab? (Any tips for newbies in palaeoecology, do your eyes hurt after many hours of looking down the microscope?) What do you do for your current project?
If I haven't looked down a microscope for a while, but I can get a little bit seasick when I first start looking down a microscope again after a long break. My eyes are usually ok, but I get quite a sore neck and shoulders If I count for too long at a time. I find that I need to make sure I do some exercise or extra stretching after work when I'm counting for longer periods of time.
I've spent quite a lot of time in the lab recently, maintaining and running the new MICADAS (Mini Carbon Dating Accelerator mass spectrometer) at the Chronos 14C-Carbon laboratory at UNSW. This has been quite a steep learning curve, getting to know a completely new set of skills in both radiocarbon dating and engineering/ion beam physics. Working with the MICADAS in a custom-built radiocarbon laboratory has given me a whole new appreciation for the intricacy of radiocarbon dating and chronology building.
6. What do you like to do in your spare time?
I like sport and have always played a variety of different sports. During my PhD I took up Australian Rules football which was a lot of fun. Meeting people in a new city outside of my work circle of friends was great. It provided an outlet after a stressful week of work and allowed me to escape thinking about my PhD for a few hours. I also play netball and generally enjoy being outside. I try to get out camping or hiking as often as possible.
7. I have seen you taking photos for AQUA in conferences and I know you manage the AQUA Twitter account. Can you tell us more about your role in AQUA?   
I am officially the information technology officer for AQUA. This role mostly revolves around maintaining the AQUA website (www.aqua.org.au) and Twitter account (@AusQuaternary). I have been quite involved in the organisation of the most recent AQUA conference where we migrated our conference registration and membership database to our own website to save on costs. Being on the AQUA committee has been a great experience. I have learnt a lot about website building and management and enjoy promoting and sharing work from Australian and New Zealand Quaternary scientists through our twitter account and website. If people would like the AQUA to promote new publications, talks or events please either get in touch with me, or send a message to the @AusQuaternary twitter account and I will happily post your content!