The OZPACS project is a working group which aims to improve understanding of the human impact on Australian ecosystems over the last 500 years. One of its major outcomes is the creation of a database of existing research relevant to the period of interest, which can be applied to assess baseline environmental conditions and identify drivers of environmental change. This work is intended to assist and improve communication between researchers and natural resource managers.
We report on the OZPACS database, which comprises metadata relating to various analytical methods, site locations presented in GIS format, a searchable reference list, and raw data from published studies. This work highlights the spatial and temporal bias of existing studies, and can therefore also be used to assist in plans for future research.
This webpage serves as a repository for the database, including metadata, bibliographies and GIS.
Further information about the OZPACS project can be found in:
Fitzsimmons, K.E., Gell, P., Bickford, S., Barrows, T.T., Mooney, S., Denham, T., OZPACS Contributors (2007) The OZPACS database: A resource for understanding recent impacts on Australian ecosystems. Quaternary Australasia 24(3), 2-6.
Gell, P., Mooney, S., Bickford, S. and Denham, T. (2006) OZPACS: Recent impacts on Australian ecosystems (Workshop report). Quaternary Australasia, 24 (1), 10-11.
Data
All sites

Pollen sites
Charcoal sites
Diatom sites
Charophyte sites
Invertebrate sites
Macrofossil sites
Geochronology sites
Sedimentation sites
Radiocarbon sites
Excel spread sheet of OZPACS_Study_site_locations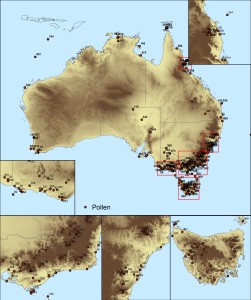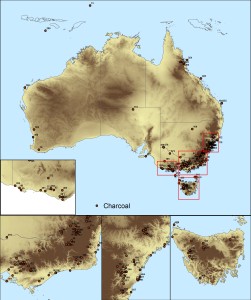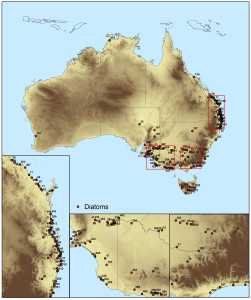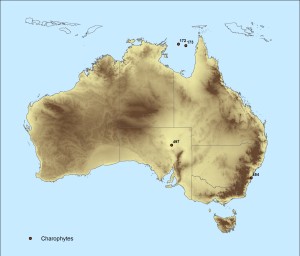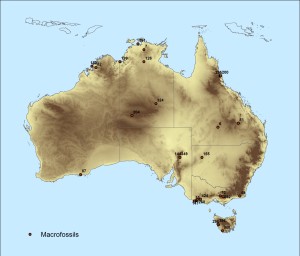 Radiocarbon_dataset_dates_within_1000y_published
References
See attached pdf for all the references used in the OZPACS database OZPACS_referencelist